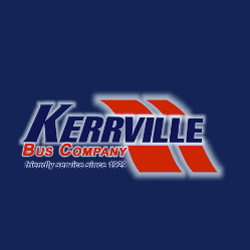 Class A or B CDL Motorcoach Bus Driver
Sorry, this job has expired.
Houston, TX
Looking for a new and exciting career where you'll meet people from all walks of life and drive through some of the greatest cities in America? Then Kerrville Bus Company is who you are looking for! As we expand to meet the challenges of the future, Kerrville Bus Company is looking for a Driver to join our family in Houston, TX.

We offer:
• An annual salary in the first year of $31k to $37k
• Paid training to fully equip you.
• Paid vacation
• Health, Dental and Vision plans
• A 401(k) plan after 120 Days, with match funding.
• A fully paid life insurance policy, with additional buy up possible.
• Gym discounts
• A $5,000 sign-on bonus

As a Driver you will:
• Follow all safety procedures.
• Regulate heating, air-conditioning, and lighting, for passenger comfort.
• Ensure that the trip stays on schedule.
• Account for all passengers before leaving a location.

We require you to:
• Have a CDL A or B License with passenger endorsement
• Be 21 years or older
• Have an acceptable driving record
• Pass a DOT medical
• Pass a pre-employment medical and criminal background check

Applicants with professional driving experience are preferred.

About us:
We take pride in providing the finest quality in motorcoach transportation service for over 85 years, since our early beginnings in the Texas Hill Country. Our Houston office specializes in a variety of services including, deluxe motorcoach charters, casino trips, and scheduled route transportation with our modern double deck vehicles.

Although the company has grown to become one of the area's largest bus carriers, we continue to strive for excellence in the transportation industry. We offer paid professional development training to give you the skills you need to operate our fleet of modern motorcoaches and experience to handle life on the open road.

Apply in person from 9am-5pm.

Click 'Apply Now' for more details.

We are an Equal Opportunity Employer.
12572